No beverage can beat the taste of fresh coffee. The best coffee maker with a grinder will help you to grab a delicious coffee cup with perfect taste. Coffee is a natural beverage, and if we drink it fresh, it will be awesome.
Making coffee with pre-ground is a quick way to enjoy coffee because coffee grinders come in costly prices and bulky sizes.
Still, many people are fond of the fresh taste of coffee with fresh grounds. If you want to save your cash and space, a more convenient way is to buy the best coffee maker with a grinder in 2022.
Many coffee makers have moving parts and coffee grinders, but we have shortlisted the 9 Best Coffee Makers with Grinders from amazon.
9 Best Coffee Makers with Grinders

Coffee makers are very common, but it will be awesome if your coffee maker grinds coffee. Check out Cuisinart DGB-550BKP1 Grind and Coffee Maker.
Stylish Coffee Maker
This coffee maker and grinder are made of Metal s there is no chance of crashing the coffee maker for years. The dimensions are 7.48 x 11.2 x 15.16 inches with 10.80 lbs, so storing and keeping on the countertop is relatively easy.
A Reservoir Cover and shiny structure make it a stylish coffee maker. A Flips back structure is Removable for easy cleaning. A safety Interlock System will keep your babies safe when you are not being.
Many Cup Brewing with a Carafe
This best coffee maker with a grinder under $200 is the best budget option. It provides you with 12 instant coffee cups and a minimum of 2 cups of coffee.
Ergonomic handles and drip over the coffee system will help you pour the coffee. The Brew-pause feature makes 4 cups instantly, and then it will shut off automatically after 4 hours of coffee making.
Best Grinding System
This coffee maker comes with a simple and effective grinding system that grinds all beans just before brewing. This Grind-off feature for pre-ground coffee will produce fresh and flavorful coffee.
After brewing, the charcoal water filter and tone filter clear and remove all impurities from your coffee. Then you can adjust the 24-Hour program to make 12 coffee cups.
Pros
Awesome fresh taste
Separate grinder chamber
24-hour programmability
Dripless pour spout
Cons
---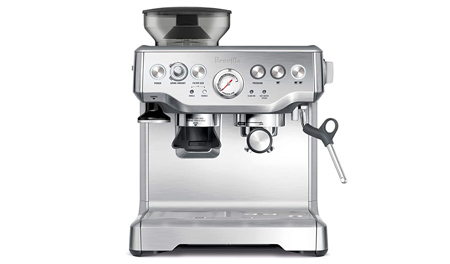 If you don't like pure coffee and want to add espresso texture, we recommend Breville BES870XL Express Espresso Machine.
Perfect Design and Perfect Taste
It is a perfect machine with 4 Pounds weight, a Stainless Steel body, color, dial-up system, and excellent taste. The soaking of coffee grounds starts with low pressure, and then the water passes slowly with high pressure from the coffee grounds.
This results in a sweet and viscous espresso taste. It can make fresh beverages with 19-22g of freshly ground beans.
Awesome Processes
From grinding to making espresso, everything here is fantastic. The flavor extraction starts with Low-pressure pre-infusion for a balanced-tasting cup.
After that, Digital temperature control (PID) adds water with perfect temperatures. After that, the mighty steam wand makes hand texture microfoam milk, creating ideal latte art.
Perfect Grinding System
It will provide you with dose-control grinding with its Integrated precision conical burr grinder. The coffee grounds will add to your espresso machine with the auto ground without measuring.
You will grind any type of beans and get a perfect texture through the grind size dial. It is an ideal machine for auto coffee grinding and delicious espresso making.
Pros
Low-pressure pre-infusion
Optimal espresso extraction
The precision conical burr grinder
Steam wand performance
Cons
Customer service is not good
---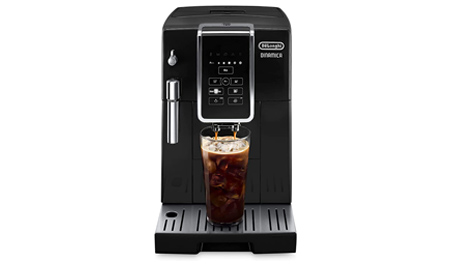 Do you want to make coffee delicious same as the coffee shop taste at your home or in your office, don't worry more because the De'Longhi ECAM35020B Coffee machine and Burr Grinder provides all these facilities at your house?
Awesome Design
We found this machine more effective for coffee brewing and grinding during the research. With Black and Stainless color, the coffee maker is made of plastic.
It is the simplest machine that provides strong coffee, grinding in a few minutes. The brewing unit is easy to clean and dishwasher safe without any chemicals.
Best Heating and Brewing System
De'Longhi TrueBrew machine is a Fully Automatic Coffee Espresso Machine with an iced coffee feature.
It will not make coffee instantly instead, it will make coffee at a low-temperature system with pre-infusing coffee grounds to customize to extra-strong coffee and smooth ice brew.
It will eat up water for coffee within 40 seconds.
Adjustable Steel Burr Grinder and Foaming
If you want to enjoy beverage strength and total control over fresh Coffee, Adjustable Steel Burr Grinder provides fresh grind coffee beans for a few seconds.
You can brew coffee grounds with settings of grind size. You can brew coffee grounds in smooth, semi-solid, and large sizes.
Another excellent feature is foaming with coconut, almond, cow, and rice milk to decorate your coffee.
Pros
Customized One-Touch Drinks
Froths Milk Perfectly
Adjustable Steel Burr Grinder
40 seconds heat-up system
Cons
---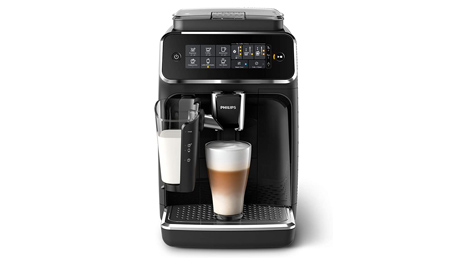 Suppose you want to make different varieties of coffee such as Cappuccino, Espresso, Coffee, and Latte Macchiato in one machine with one touch of a button. In that case, do you need to buy Philips 3200 Series Coffee and Espresso Machine?
High-End Compact Design
This best coffee maker with a single grinder cup comes with a stylish and extra compact design. The Black color Philips model is plastic with a 3.8 Pound weight. It comes with 2 parts of the LatteGo milk system with no tubes.
Also, it makes delicious coffee with a silky-smooth layer of milk foam. The milk mixed with compressed air results in a creamy layer of milk foam. On the coffee, it makes delicious coffee at the correct temperatures.
With its intuitive touch display, the control of the coffee maker will remain in your hands and makes everything perfect in 15 seconds.
5 Aromatic Coffees
With the touch display, you can make the setting of 5 aromatic coffees. After making settings, you can select milk-based recipes, coffee, an espresso, LatteGo, etc.
With a one-button touch, all varieties of coffee will be ready in 15 seconds with silky smooth foam, and cleaning is also easy in 15 seconds. You can make 3 Temperature settings for all coffees and adjust Coffee and Milk Length.
12-Step Grinder Adjustment
It is the best part of the coffee maker as you can make a 12-step grinder adjustment that will turn your hard beans into a smooth powder to coarse grinding. Its grinding system is pure ceramic that can make fresh aromatic coffee in a few seconds.
The AquaClean water filter is removable and allows you to descale up to 5000 cups, and you will enjoy clear and purified coffee.
Pros
LatteGo milk system
100% ceramic grinders
12-step grinder adjustment
5 aromatic coffees
Cons
Customer service needs improvement
---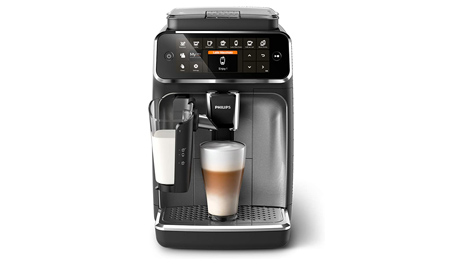 It is a fully automatic espresso machine that brews different types of coffee at home with minimum effort. Have a look at Philips EP4347/94 Espresso Machine.
High-End Design
The coffee maker comes with a touchscreen design to control multiple features, and its black-white color looks perfect anywhere. Its TFT display with icons provides settings for temperature, coffee strength, and brewing.
It contains 2 user profiles so you can make the maximum type of coffee and save your money by buying different coffee machines.
Make Any Type of Coffee
This Best coffee maker with a grinder allows you to make any type of coffee. In one machine, you are going to make 8 types of coffee. Is it not exciting? It will manage all types of coffee grinding and brewing with auto systems.
You can make a latte go with a silky-smooth layer of milk foam. In a tight chamber, milk and air mix and create an extra smooth foam to top your coffee. You can make creamy, simple, bold, or NY coffee at your favorite temperatures.
Grinding System
The Aroma Extract system is provided to you by keeping the water temperature perfect. The coffee maker balances brewing and coffee making at 90 and 98°C, and water flows at best for perfect coffee.
The grinding system is manufactured with 100% pure ceramic made of ultra-fine powder to coarse grinding. This coffee grinder will last at least 20.000 cups grinding, and the coffee maker allows you to descale up to 5000* cups.
Pros
8 coffee styles
Silky smooth froth
Intuitive TFT display
Favorite coffee settings
Cons
---

A good quality coffee maker comes at a high price, and when you buy a grinder, it will cost very high, even near a thousand dollars.
But, what will idea is if you will buy the best coffee maker with a grinder for under 100$? It is a great product on a good budget. You will really love Cuisinart Automatic 12-Cup Coffee Maker.
Simple Design
This Cuisinart coffee maker with grinder contains black and silver colors. The dimensions of the coffee grinder and maker are 8.13 x 9.98 x 15.5 inches with 1 pound weight.
The simple design with Simple controls provides effortless cooperation in coffee making. It takes minimum space, but working is efficient with coffee grinding and brewing.
Advanced Settings
It takes much time to grind coffee beans and fine them in powder form to extract maximum flavor. It loses all aroma and taste when coffee powder becomes old. But the Cuisinart coffee maker aims to provide your perfect cup of coffee with a great aroma.
It comes with a blade grinder that grinds the hard coffee beans and turns them into fine powder.
Perfect Beverage Settings
This coffee maker is specific for making coffee grounds and extracting perfect coffee from them. You can make 24 hours advance brewing time, auto shut off, and the auto-pause system ensures full-bodied flavor in a few seconds.
There are 4 settings to make hot coffee, while 12 cups of brewing at one time makes a delicious coffee party for the whole family.
Pros
1-4 cup setting
12-Cup Glass Carafe
Effortless operation
24-hour programmability
Cons
Customer service needs improvement
---

Black Decker is an excellent name for low-cost culinary products. One best coffee makers with a single grinder cup is BLACK+DECKER Coffeemaker and grinder.
Touch Screen Design
This coffee maker with a grinder and k-cup contains a simple design. It includes a 12 Cubic Centimeters brewing capacity with black color and plastic material. The coffee maker is in a grinder which makes coffee brewing much easier. The permanent filer and all-in-one grinder are easy to use and lean. It also contains a top-rack dishwasher-safe basket.
Quick Touch Programming
If you remain groggy in the morning, this coffee maker will make your morning easy and delicious. With one-button control, it provides ultimate easy features.
In the front, a backlist display contains many programs and time adjustments. Auto Brew and Auto Shutoff with a 24-hour programmable auto brew function provide peace of mind to coffee lovers.
Grinding and Pause System
This coffee maker contains both grinding and pause systems. The built-in grinder means grinding coffee bans quickly before turning it into coffee and enjoying unique pre-ground coffee with perfect taste. After grinding, it will shut off the grinder.
You can turn the whole beans into smooth powder or a semi-solid structure for bold brewing. From the coffee-making sector to brewing, Everything about this best coffee maker with grinder remains in your hands.
Pros
Custom Brewing
QuickTouch Programming
4-hour auto brew
Fresh coffee, fast machine
Cons
---

Do you want to buy 2 in one coffee centers that can brew and grind together in a limited time? Then, go for Cuisinart SS-GB1 Coffee Grinder and Brewer.
2-in-1 Coffee Center
The silver coffee maker comes with 10.75 x 11.73 x 15.93 inches dimensions,16 Pounds weight, and 4 Pounds capacity. It is a 2-in-1 Coffee Center with a coffee grinder and coffee brewer. There are multiple features for making coffee and grinding coffee beans in a very short machine.
One side contains single-cup brewing and grinding, while another comes with a 40 oz—water reservoir for excellent coffee making.
Fully Automatic Machine
The Cuisinart Best coffee maker with a grinder is a fully automatic machine with self-clean, brew-strength control, 4 hours of auto-off, 24 hours pre-programming, and the best filtering system.
A Permanent gold-tone filter is automatic for purifying coffee. This coffee brewer and grinder is Compatible with any single-cup pod. You can also use it with Cuisinart HomeBarista and Keurig's K Cup for easy brewing.
Grind and Serving System
The best coffee maker and grinder comes with a blade grinding system that automatically grinds whole beans in seconds. Then it will brew 12 cups with a Separate 64oz water reservoir.
The single-serve side contains a 40oz water reservoir that can make 3 brew sizes from 8 to 12 oz. You can also brew with any flavored coffee capsules.
Pros
Grind-to-Brew
2-in-1 Coffee Center
3 Serving Sizes
12-Cup Programmable Coffeemaker
Cons
---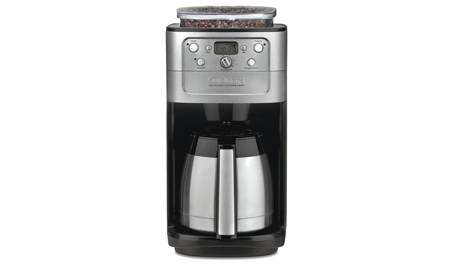 Our last choice is Cuisinart DGB-900BC Grind and Brew Coffee Maker, which has excellent features such as common space, average budget, and high-quality brewing and grinding.
Simple Design
The silver coffee brewer is stainless steel with 12 Cups capacity, 19.96 x 32.27 x 40.28 inches, and 14.96 pounds. The stainless steel thermal carafe is well insulated and holds heat inside to hold 12 cups of coffee.
The coffee maker and grinder use very little energy and are designed according to North American Electrical Standards.
24-Hour Fully Programmable Coffee Maker
This coffee grinder comes with a 24-hour auto-shutoff after grinding and brewing functions. The perfect option is its strength selector, making mild Coffee, medium, and Strong Coffee.
There is an extra bean holder with a sealed lid to prevent moisture from your beans, and you will enjoy a fresh taste of coffee. You can make 4 cups separately with single brewing functions.
Best Grinding System
The Cuisinart coffee brewer is a built-in burr grinder. With its help, you can grind coarse beans and make fine coffee powder in no time.
The grind-control function can crush 5 to 12 cups of coffee grounds in a few seconds. The coffee bean hopper can adjust a half-pound of beans with the proper size and tune of beans and volumes.
Pros
Automatic burr grinder
24-hour programmable coffeemaker
Charcoal water filter
It makes 12 cups of coffee
Cons
---
Buying Guide –

9 Best Coffee Makers with Grinders

There are many coffee makers with grinders that will be best for you. When looking for coffee grinders, keep these coffee grinders' features in mind.
Size
If you buy a separate grinder espresso machine, it will be too large for small kitchens. But a decent size of coffee brewer and grinder take up significant space.
According to your kitchen size, you can select your drip coffee makers. If your coffee maker fits in cabinets, it will be awesome.
Grinder
The grinder is a significant part of fresh coffee. Before selecting, ensure that the grinder holds your many coffee beans. The burr grinder comes at very high prices, while the blade grinder contains average prices.
The burr grinders provide consistent grinding for a delicious cup of coffee, while the blade grinder takes time to produce fine coffee.
Capacity
The coffee-drinking capacity is different for different people, so the coffee maker size varies for other people. Typically, a coffee maker comes with 4 and 6 ounces capacities.
A large coffee maker is perfect for household tasks, but a single brewing machine with a compact size is enough for a single person.
Filter
The taste of coffee is related to the filter process. The cone filter brews coffee perfection, while the later brewing process is best. The replaceable filter is best to maintain the filtration process.
 FAQS
Which filter is best, Burr Grinder or a Blade Grinder?
Burr grinders provide a good brewing process. The blade grinder produces uneven sounds, and beans are not smoothing, so the flavor extraction process will not be awesome. Instead, Burr grinders created same-sized grounds to make delicious coffee.
Is Ceramic Burrs provide better taste than steel burrs?
The steel burrs lose their sharpness very soon, but ceramic burr provides the best grinding system. Ceramic burr takes time to smooth coffee beans and withstand much grinding. But, ceramic is not powerful as steel, and there are chances to fail it soon than steel blades.
Is cleaning the Coffee Machine with Integrated Grinder easy?
Everyone wants a great coffee taste, but coffee tastes vary from machine to machine. The manual and instructions for each coffee maker for cleaning are different, but the process is approximately the same. The water and vinegar solution is best to clean the coffee maker with grinders and don't directly soak it in water, then scrub the coffee maker slowly.
Conclusion
The best coffee maker with a grinder will provide e perfect coffee taste with h fresh aroma. It is worthing to invest, so read all reviews thoroughly before deciding. After going in-depth into budget, grinder quality, machine size, and brewing function, we choose Cuisinart DGB-550BKP1 Grind and Coffee maker as the best overall. At the same time, the second-best option is Philips 3200 Series Coffee and Espresso Machine. The best budget quality machine is Cuisinart Automatic 12-Cup Coffee Maker.
You may also like:

9 Best Coffee Makers for Single Person

9 Best 5 Cup Coffee Makers with Auto Shut off