True coffee lovers know that you feel lazy, sleepy, and dull all day without a coffee cup. A delicious and fresh cup of coffee in the morning makes you fresh and healthy, and nothing is more delightful than a coffee cup after getting up from sleep. But it is a bit difficult to make coffee as grinding beans, measuring water, and brewing coffee takes time and struggle.
Besides this, it also demands sitting near to prevent your coffee from overflowing and burning. Maybe it is easy to make coffee for the whole family, but it is challenging to make coffee with hands for a single person.
But it is difficult to find a coffee maker for a single person as many cheap brands can deceive you. That's why we have shortlisted the best single-cup coffee maker.
9 Best Coffee Makers for Single Person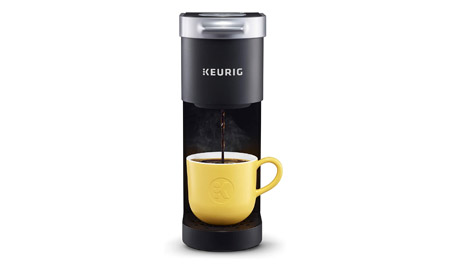 If you want to buy a small coffee maker that can brew a single coffee cup instantly for you, then our recommendation is Keurig K-Mini Coffee Maker.
Compact Design
The black color coffee maker is made of high-quality plastic. The dimension of the coffee maker is 11.3 x 4.5 x 12.1 inches with 4.60 lbs weight. The coffee maker is less than 5 inches wide, perfect for small spaces. The compact mini machine perfectly fits the most crowded kitchen counters while its operation is quite easy with the single silver button on the top. The water tank can hold a 12-ounce water reservoir, and you can check the water quantity with its transparent sides.
Ease of Use
The use of this Keurig Mini is very simple. Its brew and power buttons are very easy to use, specifically in the morning. When your machine is ready to brew, a curved light blinks instantly. The small reservoir can hold 6-12 ounces of water, and the brew button uses it all. Its removable drip tray is very easy to use.
Multiple Settings
Though this coffee maker lacks multiple settings, such as there is no brew setting and timing features. But, it comes with an auto-off system that your machine will shut off automatically after 90 seconds of brewing cycles. When you insert the K cup and press the brew button, your coffee will be ready in a few minutes.
Coffee Pod Compatibility
This coffee makes Compatibility with approximately all types of K-Cup pods. However, you can not adjust it with Rivo pods, K-Mug, Vue, and K-Carafe. But, it is not Keurig 2.0. That's why any type of K cup will not fail with it. In this way, you can attach coffee pods with your favorite flavor.
Pros
Brew any cup size
Ease of Cleaning
Energy efficient
Compact and lightweight
Cons
---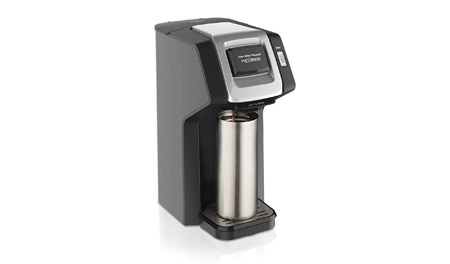 If you need to add flexibility to your coffee-making process and enjoy unique flavors, our second recommendation is Hamilton Beach Single-Serve Coffee Maker.
High-end Design
The best black-colored coffee maker for a single person comes with 10.2 x 6.5 x 13.35 inches dimensions, 3.22 lbs weight while its most part is made of plastic. The design of the coffee maker is quite simple as it presses the coffee grounds with a single press. If you place the pods or coffee grounds, it will make fresh coffee by pressing the lower lid and automatically shutting off after brewing.
Personal Coffee Maker
The Hamilton coffee maker will not only be perfect in your kitchen, but it will also become your coffee maker. Its small size is the perfect option for offices, small kitchens, and dorm rooms and makes coffee instantly with its flex brew single-serve design. It contains a view window to measure and check water quantity.
Compatible with Multiple Pods
If you like to grind fresh coffee beans and coffee pods, FlexBrew Single-Serve Coffee Maker will do everything as it comes with a single-serve brew basket. This best pod coffee maker is compatible with all pods and makes coffee with and without k cup pods. It can brew up to 10 ounces with coffee beans and 14 ounces with pods. Besides this, it will fit a variety of mugs.
Easy to Use and Clean
This coffee maker will make strong brews within 3 minutes with a delicious taste. The use process is simpler with a single-serve pod holder that holds all cups. Besides this, it also saves energy with instant brewing, boiling water, and heating system. The last but not least feature is easy cleaning of the coffee maker because it prevents clogging of coffee beans.
Pros
It fits a variety of mugs
Short brew timing
Compatible with all mugs
Easy to use and clean
Cons
---

Are you looking for a sleek single-serve brewer that lasts for years, then our recommendation is Hamilton Beach Scoop Coffee Maker.
High-End Design
The stainless steel colored coffee maker is made of Stainless Steel, while its dimensions are 8.35 x 6.7 x 8.67 in with 5.25 lbs weight. Its design is very lasting and has a Built-in stand for coffee mugs. Its spill-resistant drip tray is very easy to clean. The coffee maker will automatically shut off after brewing, which is an excellent feature.
Versatile Single-Serve Brewer
The versatility feature of this coffee maker stands apart from standard coffee makers. It makes the coffee grounds and water ratio perfect, making an excellent taste. The temperature of water in the coffee maker ranges from 195-205˚F. Such super features make it easier than a typical coffee maker.
Differing Boldness Levels
This best coffee maker for a single person works as a drip filter machine. Its bold settings make it a premium coffee maker. You can scoop all types of coffee grounds and brew in minutes. The coffee grounds basket is dishwasher-safe, so you will never need to measure coffee grounds. That's why you can make 14 oz of coffee in a few minutes.
Flexible Qualities
This best coffee maker for single-person Reddit comes with many flexible qualities. A mesh scoop filter makes your favorite brews it can brew an 8-ounce cup within 90 seconds while it takes 2.5 minutes to brew a 14-ounce travel mug. Besides this, it did not use paper filters and pods to save you money.
Pros
Fast Brewing
Automatic shut-off
A spill-resistant drip tray
Last for years
Cons
---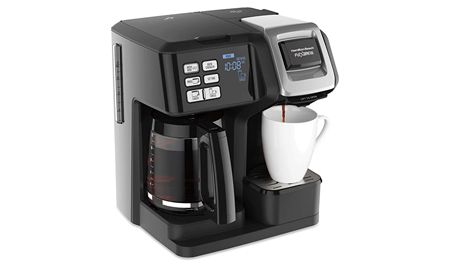 If you are in quest of a portable and sleek design coffee maker, then our recommendation is Hamilton Beach Single Serve Coffee Maker.
High-end Design
This Hamilton coffee maker comes in black with 11.4 x 12.2 x 13.7 inches dimensions and 6.37 lbs pounds of weight. Though most parts are made of plastic, it looks great and last for years. It contains 2 separate reservoirs because each brewing side contains its water reservoir. The water window helps you to check and measure the water quantity. It looks stylish with its dial system.
3 Ways to Brew
This best drip coffee maker, 2022, comes with 3 ways to brew. The carafe side can brew 12 cups of ground coffee. Besides this, you can also use dual features such as ground coffee and brewing a pod on the same machine. A coffee pod can brew 10 oz coffee for you, while coffee grounds will provide you with a 14 oz coffee cup. Its single-serve grounds basket and pod holder do both tasks.
Compatible with Any Pod
This single-cup coffee maker brews delicious coffee with coffee grounds, k cup pods, and pods of any brand. You can brew an oversized coffee mug with pods and coffee grounds. It comes with Easy-Touch programming that makes coffee ready every time. It keeps coffee warm after two hours of coffee-making power automatically shuts off. Besides this, you can select Auto Pause & Pour systems.
Control Over Delicious Coffee
This coffee maker provides you swift control of your delicious coffee, such as you can make a coffee cup instantly with a touch in the morning as its adjustable settings keep your coffee in a few minutes. Besides, this pod-piercing assembly tool is removable, so your machine will be ready for a new coffee cup in the next few minutes. Such swift programs are rare at such a reasonable price.
Pros
3 ways to brew
2 separate water reservoir
Controls brewing process
Warm-up features with auto shut off
Cons
Customer service is too slow
---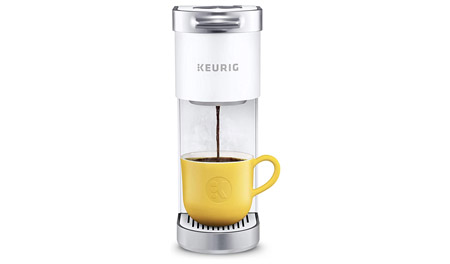 After testing a more compact coffee maker, we found that Keurig K-Mini Plus Coffee Maker stands apart. Have a look at this small coffee maker
Mini But Attractive
If you have no space in the kitchen but want to enjoy delicious coffee, this coffee maker is awesome for travel due to its dead weight and a small home.
The white-colored coffee maker comes with 11.3 x 12.1 x 4.5 inches dimensions and 6.6 pounds weight. The coffee maker is 5 inches in width which will be a perfect choice for tiny places.
6oz to 12oz Cup Size
This best coffee maker for a single person adjusts any cup size between 6oz to 12oz of coffee. The cup size depends upon the water volume inside it. If you want to make 8oz of coffee, fill the tank with 8oz of water. While 60oz water makes 60 oz of delicious coffee.
Fast Brewing Time
If you need a hot cup of coffee instantly in the morning for work or school, this mini coffee maker makes the brew process instant.
It takes minimum steps to prepare coffee, such as inserting pods, filling water inside the reservoir, and pressing the button. Your delicious 6oz cup of coffee will be ready in two minutes. Is it not exciting?
Multiple Advance Settings
The Keurig K-Mini machine is an efficient machine due to its multiple settings. The auto-shutoff feature allows your coffee maker to stop working within 90 seconds of inactivity. After brewing, it saves energy for your coffee maker.
It also helps you make a bold coffee taste that makes your coffee strong. You can also make coffee a bit longer, making your coffee more delicious.
Pros
Brews multiple items
6oz – 12 ounces any cup
Keurig's smallest brewer
Removable reservoir
Cons
---

There are very few boring people who don't like coffee. Otherwise, it is a favorite beverage of many people. The coffee maker that will make a delicious taste but takes less space in your kitchen with its stylish design is DC Wonder Woman 1-Cup Coffee Maker.
Stylish Design
The best black-colored coffee maker for a single person contains a dimension of 5.81 x 8.06 x 9.13 inches to take minimum space in your kitchen. It has a sturdy design with many plastic parts that will never disappoint you with any bitter taste.
The simple design makes coffee in a short time with quick methods. When you spend money on a coffee maker, you deserve great taste, and Wonder Woman 1-Cup Coffee Maker is made for delicious coffee only.
Single Touch Brewing
This coffee maker allows you to brew delicious coffee with a single touch. It is illuminated with an on/off switch that makes your day better with auto shut-off if you are not using a coffee maker.
The filter basket filters the proper amount of ground coffee. Then you need to fill the water in the reservoir and turn on the coffee maker. Your delicious cup will be ready in a few moments.
12-Ounce Ceramic Mug
If you are a single person, then you need a stylish mug. A dishwasher-safe ceramic mug can be used to pour coffee from the coffee maker and enjoy delicious coffee.
But what is ideal when your coffee cup is compatible with your coffee? We think it is an excellent service that wonder Woman provides to true coffee lovers.
Removable Filter Basket
Though quick coffee lovers do not like this, this coffee maker will not use any type of capsules. Instead, it used original coffee grounds that taste fresh and better than old coffee pods.
So, don't buy specific capsules as Removable Filter Basket uses fresh and re-useable coffee beans. This basket and Permanent Filter is dishwasher safe.
Pros
A permanent filter
Single Touch Brewing
12 Oz Mug Included
Removable Filter Basket
Cons
---

If you want to enjoy the unique and delicious taste of coffee, the new Keurig K-Café single-serve coffee machine provides you with swift control over your making process. Have a look at Keurig K-Cafe Single-Serve Coffee Maker.
Premium Design
Keuring is a great name for true coffee lovers, and this machine will enhance your love for this brand. It is a large coffee machine with 3 Pounds, 17.32 x 14.17 x 14.41 inches, and plastic parts.
The unusual asymmetrical design makes it perfect, with a milk frother on one side and a large water reservoir. Though the color is not much attractive, charcoal and premium nickel colors make it ideal in any kitchen.
Ease of Use
If you are already a user of Keuring machines, you know that this brand provides a very easy coffee, making process. The K-Café features offer intuitive controls, and you can choose to control latte and cappuccino brewing.
It also lets you create 4-cup sizes of coffee and a robust brewing process. Add a coffee pod, fill the reservoir with water, push the brew button, and wait for a few moments, and your delicious coffee cup is ready.
Simple Controls
This best coffee maker for a single person comes with premium controls as you can make strong tastes, iced lattes, cappuccinos, hot coffee, and espresso shots with high-end taste.
Before brewing, you will not need to heat your coffee because it makes heat and brews with one simple process. Such swift control of your favorite beverage is so relaxing.
60-OZ Water Reservoir
It comes with a large 60oz water reservoir to save 6 cups of water to prevent refilling. In this way, you can brew your single cup instantly and save time.
You can remove your water reservoir to refill it. The last but awesome feature is the Programmable auto-off feature, which inactivates your coffee maker after two hours of inactivity and saves time.
Pros
Simple controls
Very easy to use
Reusable coffee filter
Energy-efficient coffee maker
Cons
The frother is not perfect; otherwise, awesome
---

Suppose you are confused about whether Keurig K-Duo Coffee Maker will be your right choice or not. Let us look at the fantastic features of the Keurig K-Duo Coffee Maker.
High-End Design
The K-Duo makes your kitchen stylish with its modern look. The silver coffee maker is made of plastic with 12.76 x 10.94 x 12.92 inches dimensions and 12.03 pounds in weight. You can see a hot plate and 12-cup glass carafe on its left side during a single-serve dispenser on the right side.
The base is made of sturdy metal, while the lid is plastic made with a black and silver accent, but the silver color is dominant in all coffee machines. Much Keurig coffee maker comes with a sleek design, but its premium design is a bit sturdy.
Water Reservoir
This best drip coffee maker, 2022, comes with 60 ounces of water capacity. The single-serve coffee maker and carafe contain a large water reservoir. You will don't need to refill your reservoir again and again.
If the water gets old, you can remove the pool and fill it in seconds as it will not smell. Such a large reservoir makes it unique from ordinary coffee makers. It is the best option to save time on a busy morning.
Brewing Features
This best coffee maker for a single person comes with powerful brewing features. You can make a more robust single cup of brew coffee in seconds with a more intense taste. You can brew 6 to 12 oz. Cup of coffee and 6, 8, 10, or 12-cup carafe in a few minutes. Such multiple brewing options are rare with common brands.
K Cup pods
Most people want to make drip coffee in the carafe with coffee grounds as it tastes better than coffee pods. For making coffee with coffee grounds, you need to use a paper filter or a reusable coffee filter as it will filter easily from the filter basket. K-Cup Universal Reusable Coffee Filter is also perfect for using coffee grounds.
Unluckily, this coffee maker is not compatible with Vue pods, Rivo pods, K-Carafe pods, and K-Mug pods, but it can adjust easily using K Cup pods with a pungent taste.
Pros
60oz water reservoir
Carafe brewing
Energy-saving coffee machine
A more intense single cup
Cons
---

If you want to enjoy a delicious taste of coffee with an auto coffee machine, then our recommendation is Cuisinart SS-15P1 Single-Serve Brewer.
High-end design
This best pod coffee maker comes in a high-end Silver color, with 10.13 x 10.38 x 14.25 inches dimensions and 12.2 Pounds weight. A relatively larger footprint makes it a standard coffee maker. Like other cheap materials, it is not made of plastic.
Instead, it is combined with steel and plastic. The BPA-free ABS plastic coffee makers are dishwasher-safe and easy to clean.
Easy to Use
The convenient features and intuitive interface make this Cuisinart Coffee Center SS-15 very easy to use. The 12-cup coffee maker comes with a water reservoir that can be filled with your own need. You can pour the correct volume with a thermal carafe.
It's time to place coffee grounds in a coffee filter or paper filter. Now press the brew button, and your coffee will be ready in less than five minutes.
Straightforward Process
Every setting of the coffee maker is straightforward and helps you make the coffee within no minutes. The intuitive control panel is constructed with stainless steel that withstands use. A 12-cup carafe withstands high temperatures. The K-Cup design slot keeps the K-cup pods, fills the water tank, and brews everything from standard coffees to hot chocolate.
2-in-1 Coffee Center
It comes with a programmable 12-cup coffeemaker and single-serve coffeemaker that make it a premium machine to make coffee. It features a bold coffee option, auto-off after 4 hours of coffee making, temperature control, 24-hour programmability, and a self-clean process.
A Charcoal water filter provides a pure taste of coffee, while a gold-tone coffee filter makes the coffee grounds pure and smooth.
Pros
2-in-1 Coffee Center
Best Single-Serve Brewer
12-Cup Programmable machine
Charcoal water filter
Cons
---
Best Coffee Maker for a Single Person Buying Guide
When you figure out your daily coffee needs, making coffee becomes an easy process. If you don't know which type of coffee maker will fulfill your needs, our guide will help you with valuable tips.
Size of the Coffee Maker
When you buy a single-cup coffee maker, it means you want to buy a mini coffee maker. If you buy a small coffee maker with a single cup and your 5 guests will come, you will make 5 coffee cups five times.
However, for students who live in a dorm room, and buy a coffee machine for travel, then a single coffee maker will suit them.
Coffee Taste
Before buying a new coffee maker, you should select a coffee maker that can make your favorite taste. Many people want a pure taste of coffee, while some like cappuccinos or lattes. In this condition, you should check whether your coffee maker will make your favorite tastes or not.
Cost of the Coffee Maker
Of course, a decent coffee maker comes with hundreds of dollars. When you make delicious coffee, you will never compromise on your qualities.
If you make too much compromise on rates, you may buy a model on a low budget, but it will last fewer years. However, expensive models demand more money. But they are packed with multiple qualities.
Convenience of Cooking
If you are addicted to enjoying fresh coffee cups in the morning, it will become challenging to grind coffee beans, boil water, make brewing, etc. But, if you will buy a coffee maker with temperature settings, auto shut off, and coffee beans grinding, then you can make delicious coffee soon after waking from a deep sleep.
FAQs
Is K-cup perfect for any coffee maker?
The k cups are tea, coffee, chocolate, and cappuccino packed in a plastic cup and some kind of cartridge covered with a plastic ring. The inner side of the capsule contains a filter process that releases coffee taste while the brewing process. So, you can choose any k pod with your favorite flavor.
What is the working process of single-serve coffee makers?
The water tank is present in the back of the machines, and you need to load water in it. The water pumps inside with the machine suck water, pump it into the coffee maker and increase pressure through a narrow needle. The heat and pressure combine with water that releases on coffee grounds and perfect coffee is released.
What is the top coffee maker for a single person?
The mini coffee maker comes with easy brewing, multiple pods compatibility, auto shut-off features, easy use, temperature settings, and a reasonable price for a single person. The coffee maker with such qualities is Keurig K-Cafe Single-Serve Coffee Maker.
Conclusion
That's all about the best coffee maker for a single person. We have shortlisted these 9 mini coffee makers after deep research. That's why each model will benefit you when you buy it.
Though all our selected items are excellent and high quality. but the top choice is Keurig K-Duo Coffee Maker, and the best mini coffee maker with a low price is Hamilton Beach Scoop Coffee Maker; however, selection depends upon you.
You may also like:

9 Best 5 Cup Coffee Makers with Auto Shut off

9 Best Coffee Makers for Home Use