A coffee maker with a milk frothing option provides the best taste of coffee or espresso. Not only coffee, but these machines also provide versatile drinks.
You can brew coffee, froth milk, pull an espresso shot, or make a latte and cappuccinos. But one drawback is these machines are costly and take up some space in your kitchen. But, the varieties of coffee force coffee lovers to buy these machines.
This coffee guide is specific for milky coffee lovers, and we have brought it to you after comparing many coffee machines on the market. We have shortlisted the 9 best coffee makers with milk frothers.
9 Best Coffee Makers with Milk Frothers – Prices
[azonpress template="table" asin="B07FX73Y7H,B00HQXJY7E,B01M68FHZ4,B007K9OIMU,B08C96BG9H,B01KIG4YNO,B01MTZ419O,B07FDFP6MY,B09712797D"]
9 Best Coffee Makers with Milk Frothers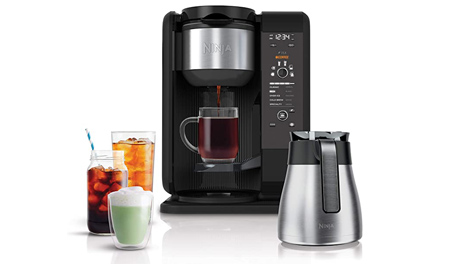 The Ninja Coffee Maker CP307 is an all-in-one machine that can make a latte, hot and cold brews, and other specialty brews with brew-strength control. The coffee maker is packed with multiple features that make it a versatile coffee machine.
Smart Design
This ninja coffee maker is made of Plastic, Metal, and Rubber and comes in black an attractive color with 11.81 x 10.01 x 15 inches dimensions and 11.73 pounds weight. There is a display for coffee or tea drink options and a System recognizes baskets.
A Separate coffee and tea basket allows you to brew tea from tea leaves and brew coffee. This model contains many features such as brew-size adjustment, brew mode for iced coffee, and hot coffee with brew size. With multiple operations, it takes a small amount of space.
Coffee, Cold Coffee, and Tea Brew Settings
This best coffee and espresso maker combo comes with brewing technology and makes various coffee and tea options. You can brew cold iced coffee at lower temperatures and tea with the desired flavor. These settings provide a natural taste of coffee in 15 minutes with matchless flavor.
Brew Sizes and Styles
This coffee maker comes in different brew sizes and styles. The 6 brew sizes allow you to make half carafe, full Carafe, travel size carafe, and single cup in a few seconds.
The 5 brew styles are classic coffee, rich flavored coffee, over-ice, special coffee, and cold brew in a very short time. You can brew coffee from the coffee bag, loose-leaf, tea or coffee, or any brand to brew directly into the cup.
Pros
Brewing technology

Separate coffee and tea baskets

Different brew sizes and styles

A fold-away hot and cold frother
Cons
---

Are you looking for excellent espressos, cappuccinos, and lattes at home, without any defective ant machine? Nespresso Lattissima Coffee and Espresso Machine would be the best option.
Compact Design
The silver coffee and espresso machine comes with 5 liters capacity. This coffee maker is an excellent gift with its coffee style and perfect design.
The sleek design and intuitive digital touchscreen provide simple programs to enjoy any coffee and milk recipe. There is an advanced technology that provides optimal milk froth quality in minutes.
Brings Out More Flavors
This best coffee maker with milk frother comes with a patented espresso extraction system. It provides 19 bars of pressure with an ideal water flow—the best flow results in the perfect flavor of each coffee cup.
There is an ideal extraction process that provides the exact level of taste with integrated Carafe dispenses milk. You can keep fresh coffee in your refrigerator to brew cold coffee.
Rapid Process
From heating to foaming, every process of the coffee maker is linked with rapid systems. The instant heat system allows you to make delicious espresso cups without waiting.
It comes with Thermoblock heating system speeds that provide heat to cold brewing in seconds. There is a capsule container that contains 15 capsules at one time. The De'Longhi Automatic Cappuccino is specific for making foam drinks.
Pros
The ultimate convenience

It brings out more flavor

Nespresso capsule system

Rapid heat system
Cons
---

If you are tired of traditional coffee makers and want some best designs of coffee makers with superb performance, then our recommendation is Nespresso Citiz Coffee Espresso Machine.
Flawless Design
The black-colored Nestle Nespresso coffee machine has 2.1 Pounds in weight and is made of plastic. The CitiZ coffee machine by De'Longhi comes with a perfect design that suits urban kitchens.
The coffee maker is stylish, innovative, and elegant, and a red dot enhances the attraction of the coffee maker. If you are a beauty and coffee lover, this coffee maker combines style and excellent work.
High Performance
This machine features a 19-bar pump system that makes espresso and barista-style single-serve coffee in time. It extracts delicate flavor from each Espresso Original Coffee capsule with 1710 watts. In 25 seconds, the temperature of the coffee maker reaches ideal condition.
Within 10 to 30 minutes, your coffee maker will start its automatic Energy-saving function and switch to shut down. Such Speed and Energy-saving options are rare.
Versatility
This coffee and tea maker combo comes with a versatile option such as two programmable Espresso features. One is a 1.35 oz espresso feature and a 5 oz Lungo button that provides a great taste of coffee.
There is a pour-ice function that makes iced coffee drinks in no time. 34 o water tank holds water for coffee, and the Espresso capsule container provides a versatile coffee-making system.
Pros
Nespresso Capsule System

High-Pressure Pump

Speed and Energy saving

Get the ideal temperature in 25 seconds
Cons
A bit of vibration occurs
---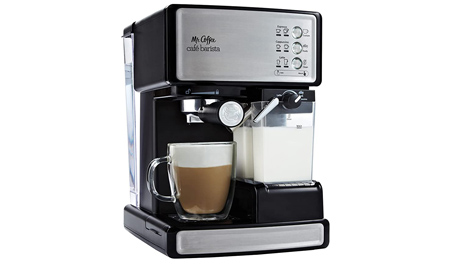 Mr. Coffee Espresso & Cappuccino Maker – Café Barista makes the perfect latte for your favorite drinks. This coffeemaker provides delicious beverages with a simple process.
Premium Design
The silver color Mr. coffee machine comes with a premium design, 10.37 Pounds weight, and 11.22 x 8.86 x 12.6 inches dimensions. The easy system of the coffee house makes it perfect for household coffee tasks.
The upper side is decorated with a touchscreen dial system, while the lower part contains a coffee carafe and cup brewing side.
The silver and black combo design, stainless steel material, and compact design 26 Inches cord length make this coffee maker perfect for any task.
Automatic Coffee System
The Mr. Coffee Cafe Barista is a perfect machine that automatically provides steamed milk, espresso, and other drinks. It provides everything delicious with a push of a button.
This awesome 15-bar espresso machine is a semi-automatic gadget with a one-touch control panel.
The coffee reservoir is refrigerator-friendly for making cold coffee. The milk frother is automatic to make lattes and other foamy drinks.
Control Over Rich Taste
The front button of this best coffee maker is labeled with the corresponding drink, while there are some options for manual and automatic control.
A milk reservoir is specific for a milky coffee and easily fits the unit. You can store resting milk in the reservoir in the refrigerator.
The frother knob allows you to control the froth quantity in the milk. The Cafe Barista features both brewing shots and coffee bean loading features.
Pros
15 Bar Pump System

One-touch control

3-in-1 espresso maker

Automatically Froths Milk
Cons
Required regular cleaning
---

With delicious espresso drinks available, you can add them to your daily routine. Its tall cups can be seated on the level of the cupholder.
It is a strong product and is extremely easy to clean and ensures your machine lasts longer. Now you can experience the art of home espresso at your fingertips. Enjoy your coffee with De'Longhi Stilosa Espresso & Coffee Machine.
Modern and Portable Design
This coffee maker will be an outstanding contribution to your advanced kitchen worktop, trying to take up little space and being easy to clean and maintain.
It is a good thing because any product is preferred for its design features. Everyone will want to get something if it looks beautiful and completes the work. So this machine is one of them.
Best Pressure
We like the thing that is made once, produced, again and again, then it is one of them. It provides the ideal pressure for extracting only one or double espresso, ensuring that your coffee drink is nicely highly wealthy. Because this pressure builds up well, it's easy for you to fill it again and again.
Milk Homogenizer
Create authentic cappuccinos, lattes, and flat whites with the help of a manual milk frother. This feature is not present in everything, so it is in it, so it is a good thing.
With this elegantly designed machine, beginning espresso enthusiasts will easily make authentic espressos, lattes, and cappuccinos in their own homes.
Durable Boiler
One such boiler's orders issued and highly durable are designed will last longer and work extremely hard with solid results.
A portafilter with two filters, one for solo and one for a double espresso, is ergonomic. For a better extraction, a separate tamper ensures even pressure and consistency.
Pros
Best frothing system

Modern and Portable Design

Easy to wash

Made of a strong stainless steel
Cons
---

A fully automatic 12-cup coffee maker and a single-serve brewer are included in the Cuisinart Coffee Center.
With a Cuisinart coffeemaker, you can enjoy a gourmet coffee experience, whether alone or serving a crowd. You are free to free up more counter space by using one coffee maker to do the job of two.
Two in One Feature
The coffee maker Includes 10, or 12 cups of coffee on one side and a single coffee maker on the other. So that's a beautiful thing that can do two things at once.
High-End Design
Available in silver color, it is decorated with a beautiful and elegant design. It makes you want to take it as soon as you see it.
Why not take it to heart because it has good features with good design? Humans like something that is beautiful and at the same time has more features.
Filter Feature
This system uses charcoal to filter water and gold-toned coffee filters for the purest coffee taste.
With the Cuisinart Home Barista Reusable Filter Cup, you can also use your coffee. In this way, coffee is also fantastic and the heart to drink again and again.
Pros
Two-in-one feature

Coffee pods are strong

Magnificent design

Awesome filter features
Cons
---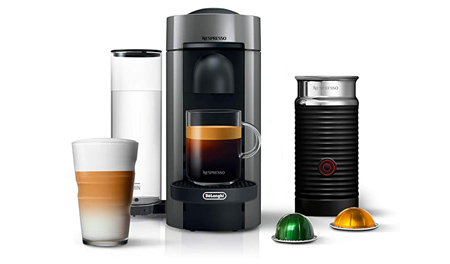 The Nespresso VertuoPlus machine makes four different single-serve cup sizes with a button. Nespresso Vertuo capsules with a unique aroma profile are included with every machine.
In addition to dual capsules, Centrifusion technology allows the VertuoPlus to brew coffee or espresso. Up to ten used capsules can be stored in the removable water tank.
Intelligent Coffee Pot
With Nespresso's Centrifusion technology, which uses sequences to deliver the highest in-cup results, such as the ideal cheese for large Coffee cup sizes, you can make beer the perfect solitary Coffee or Espresso drink again and again.
Single-Serving Coffee Maker
With a single button, you can make barista-quality flavored single-serve Coffee or Espresso coffee. It just works with Nespresso Vertuo capsules. A huge 40-ounce water tank and a 17-count used compartment container are included.
This machine has a quick thermal processing time of only 15 seconds. There is also a fully automated energy-saving cutoff valve after 9 minutes of operation. It only works with Nespresso Vertuo Capsules.
Milk frothing
You can easily create a smooth cold or hot milk froth for your coffee recipes, including its Nespresso Aeroccino3 milk frother. With a single touch, the Nespresso Aeroccino3 integrates processes of warm or cold milk froth for your coffee recipes.
It froths all kinds of milk in seconds, with really no noise or motion. So everyone likes the Nespresso machine that works in seconds. The heating time is about 15 to 25 seconds.
Pros
Easy to use

Adjustment and maximum comfort

Reuse your aluminum pods

Beautiful and charming design
Cons
This product is a bit expensive
---

Ninja Hot and Cold Brewed System provide a perfect coffee house for brewing hot and cold coffee.
High-End Design
The plastic coffee maker uses a touch button control to make milky frothing, and its black and stylish color looks perfect in any office. The coffee makers have Built-in frothers and make silky-smooth milk drinks in a few seconds.
You can select any brew size with the thermal Carafe, but its thermal Carafe is not dishwasher safe. With this Carafe, brewing a half or full Carafe is quite easy.
Best Brewing Process
This all-in-one cappuccino, espresso, and coffee maker come with the best brewing process to brew a single cup or travel mug. You can also make tea, cold brewing, brew over ice, bold coffee functions, and flavored and refreshed coffee in seconds.
This coffee and tea maker combo uses no pods and makes coffee and tea with coffee grounds and tea leaves.
Intelligence Technology
This best coffee and espresso maker combo brews your favorite style of coffee and tea with a one-touch system.
Auto IQ's one-touch intelligence technology turns hot and cold coffee with silky foam in seconds. Now, your delicious coffee is away to you at a one-touch system.
Thermal Flavor Extraction Technology allows you to choose natural sweet and coffee flavors at one touch.
Pros
Brew multiple brew sizes

Auto IQ one-touch intelligence

Silky smooth froth in seconds

Fresh 10-minute cold brew
Cons
---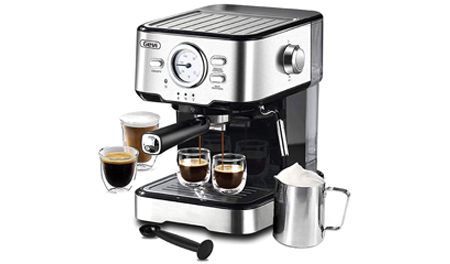 Do you want to buy a coffee maker that integrates practical design? This time our last choice, the Gevi coffee maker, will not disappoint you with its excellent features. Enjoy the latter, pin-socket type design, and smooth foaming milk with Gevi Espresso Machine and Coffee Maker.
Awesome Design
This Gevi coffee maker is made of plastic and black, and the silver color combination looks perfect in a cafe shop or house. The 1.5 Liters capacity with 10.83 x 15.08 x 13.7 inches dimensions makes this coffee maker perfect for the size.
The double shots funnel and double-layer portafilter makes two coffee and espresso cups at one time. The temperature control dial in the front of the machine is suitable for beginners. The coffee tank holds 1.5-liter coffee, and its cleaning is much easy.
Professional Milk Frothing
This best coffee maker with frother comes with a professional milk frothing system and makes a cappuccino and latte with the hot steam wand.
The hot air with steam rotates at 360 degrees to produce perfect foam. When hot air combines with steam, it creates a creamy froth for later with simple touch control.
Double Temperature Control
This coffee and tea maker combo has an accurate dual temperature control system for perfect foaming, coffee, tea, and milk foam.
The LCD dial contains clear temperature control buttons that are beginner-friendly and help you make two espresso cups at once. The 15-bar professional Italian pump provides the best steam for making froth in seconds.
Pros
2-in-1 Espresso Machine

High clear controls

The wand rotates 360 degrees

Perfect frothing system
Cons
Customer service is not good
---
Buying Guide – 9 Best Coffee Makers with Milk Frother
When you make coffee with an all-in-one cappuccino, espresso, and coffee maker, you must focus on some features; otherwise, you will remain to fail in buying a perfect machine.
Steam Wand
Some people like creamy coffee while some like pure coffee, and if your coffee maker comes with frothing and brewing features, it is necessary to check its steam wand system.
If you want to brew coffee for you or foam options, check the features of the steam wand. It is a traditional option that allows you to make foam with a burst of steam to decorate coffee.
Automatic Frothing
If you are going to buy the best espresso machine for beginners, automatic frothing is necessary. After adding milk to a container, a built-in frother mixes air with the steam wand to create foamed milk directly into the cup. So, focusing on automatic frothing is necessary for milky coffee lovers.
Personal Functions
A decent coffee maker with milk frothing comes with many proper functions. Suppose your coffee maker contains pre-set drink settings such as selecting coffee capacity, coffee strength, the right amount of coffee, milk coffee accessory, automatic frothing, and brewing time. In that case, these functions make your frother best.
Maintenance
the cleaning of the coffee maker impacts much on the taste of coffee so check whether your coffee maker is providing you with manual cleaning or not.
If you clean the coffee maker regularly, your coffee taste will improve. Manual cleaning of coffee machines takes time, but automatic machines provide instant cleaning.
---
FAQs
Is it worth buying a coffee machine with milk frothing?
It is a question of most coffee lovers whether buying a milk frothing machine is worth it or not. A milk frother is not a costly machine, so it is worth buying a good coffee maker with frothing options. If your frother instantly provides the best steam wand and perfect foaming system, it is worth buying frothing coffee machines.
Which is better frothing, before coffee making or after?
For making a latte of cappuccinos, a froth milk layer is necessary before and after. Latte coffee contains a light layer of milk foam to make foaming milk before coffee making. First, pour the liquid, add coffee, decorate the rest of the frothed milk on the upper side, and hold it with a spoon from being mixed.
Which is the best coffee maker with a milk frother?
The best coffee maker and milk frother come with Professional milk frothing, an automatic coffee system, control over rich taste, Flawless design, High performance, Bringing out more flavor, Rapid process, coffee, cold coffee, and tea brew settings, intelligence technology, and much more. Our top recommendation is Ninja CP307 Hot and Cold Brewed System with these features.
---
Conclusion
After testing many coffee makers and frothers, we selected the 9 Best Coffee Makers with Milk Frothers that are top on the market. These coffee makers are coffee, espresso, and tea maker combo s prevent you a lot of money.
After testing in-depth, we think that Ninja CP307 Hot and Cold Brewed System is a top-quality coffee maker. Besides, the second-best budget-friendly choice is Gevi Espresso Machine and Coffee Maker.
You may also like:

9 Best Coffee Makers Keurig Machine

9 Best Coffee Makers with Grinders

9 Best Coffee Makers with Steamer